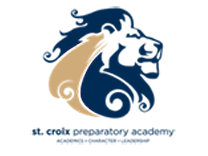 St. Croix Preparatory Academy (SCPA), in Stillwater, MN, opened as a Charter School in 2004. Their Mission is to develop each student's academic potential, personal character, and leadership qualities through an academically rigorous and content rich educational program grounded in a classical tradition.
We were engaged to develop a Brand Strategy that would focus on strengthening the relationship families have with SCPA. We began with qualitative research with parents of current students in the lower, middle and upper schools in order to understand their perceptions of SCPA and competitive schools.
We then identified the future target family, based on insights into their underlying needs and motivations. Next, we determined how we wanted the SCPA brand to evolve in the future, and created an emotional Brand Promise that was compelling, believable and distinct to drive increased enrollment.
Lastly, we guided initial implementation of the Brand Strategy into the marketplace, including creative development and the tagline "Prep For Life."
Engaged with:
Jon Gutierrez, Co-Founder, Executive
Kelly Gutierrez, Co-Founder, COO
Heather Thorson, Communications & Event Manager
Rich Dippel, Athletic Director
Joann Karatov, Lower School Principal
Amy Kleinboehl, Teaching and Learning Coordinator
Anna Maakestad, Teacher and Teaching Learning Coordinator
Chad Olson, Tech Director
Wanda Renner, Middle School Principal
Andrew Sachariason, Upper School Principal
Terri Smith, HR Manager
Cori Wahl, Special Education Director