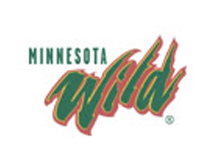 Four years after the North Stars left the Twin Cities to become the Dallas Stars, Minnesota was awarded a new National Hockey League franchise. To achieve the required NHL and team growth goals, we guided the owners of the franchise to create a Brand Strategy that would reconnect Minnesota sports fans, corporations, and the community with the new team.
We began by uncovering the needs and motivations of target fans – many of whom had developed a distrust of professional sports. Next, we identified competitor's promises, and created the future Brand Essence of the yet-to-be-named team. We then created a compelling, believable and distinct Brand Promise that would emotionally connect with target fans, corporate sponsors and the greater Minnesota community. Lastly, we named the team, created the team colors and Word Mark, and created the "State of Hockey" concept.
In 2000 the Minnesota Wild began its first season in the NHL with every game being sold-out, and over 6,600 on the season ticket waiting list.
Sports Fans of America Association, Inc. awarded its 2003 NHL Sports Fan's Quality Award to the Wild as the league's "Fan Friendliest" team. From 2003-2010 ESPN The Magazine ranked the team six times among the top three (including #1) for stadium experience and in 2003 #3 for fan relationships among 123 sports franchises. And in 2006 the arena was named "Best NHL Arena" by SportsBusiness Journal and "Best Fan Experience" by Forbes.
In 2003, 2007, 2009, 2012, 2015, 2018 and 2020 we guided team leadership and agencies through formal Brand Summits to continually evolve the Brand Strategy to deepen fan's emotional relationship with the brand. This included qualitative and quantitative research with fans to understand their current perceptions of the Wild organization and their desires from the organization in the future, including; direction of the team, game day experience, marketing communications, rewards programs, social media consumption, etc.
In 2010 we guided Hockey Operations, including the General Manager and Head Coach, in developing Team Messaging to communicate the Vision and Values of our on-ice team.
In 2011 we guided the new owner and leadership team in creating the Purpose, Principles and Vision for the overall organization
Every game was a sell-out in the team's first 9 seasons!
Engaged With
Initial Engagements with:
Robert O. Naegele Jr., Chairman and Majority Owner
Robert O. Naegele, III, Ownership Family
Greg Hoyt, Ownership Family
Jac Sperling, Chief Executive Officer
Tod Leiwecke, Chief Operating Officer
Matt Majka, VP Marketing, and SVP Business Operations
John Maher, VP Brand Marketing
2010 and Future Engagements with:
Craig Leipold, Owner/Governor
Matt Majka, Chief Operating Officer, President
Jeff Pellegrom, Chief Financial Officer
Jamie Spencer, EVP, Business Development
Chuck Fletcher, General Manager
Bill Guerin, General Manager
Todd Richards, Head Coach
Mike Yeo, Head Coach
Mitch Helgerson, SVP, Marketing and Ticket Sales
John Maher, VP, Brand Marketing and Communications
Carin Anderson, VP, Corporate Partnerships
Maria Troje – VP, Customer Service and Retention
Bridget Johnson – Senior Manager, Marketing
Bjorn Kadlec – Senior Business Analyst
Sarah Leeth – Senior Director, Marketing
Matt Minnichsoffer – Senior Manager, Creative Services
Kate Piedade – Director, Digital Marketing and Broadcast
Save